Crash course in Klüngel, Kölsch und Carnival
"Cologne is the crystal meth among cities."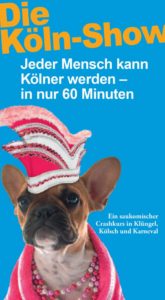 Kölsch is a beer, a dialect, an attitude to life ("Jeföhl!") and much more! Kölsch is spoken and sung, cheered and drunk, lived and celebrated. The Köln Show will show you Cologne is at its very best. It will explain why no city in the world is celebrated more in song. And why the Romans liked to live here. And where you can find the best pubs. And which tourist traps you should beware of and how you can become part of The Klüngel. The Cologne Show takes you on a Tour de Cologne through the three big K's of this city: Klüngel, Kölsch and Karnival.